10/07/12 14:28 Filed in:
Travel
As the evening ended last night and we drove back to Summerside, there was a spectacular sunset off to the west. We saw it over the fields and wished we could have viewed it over the Gulf of St. Lawrence along the North coast. Here is an example of a sunset over PEI.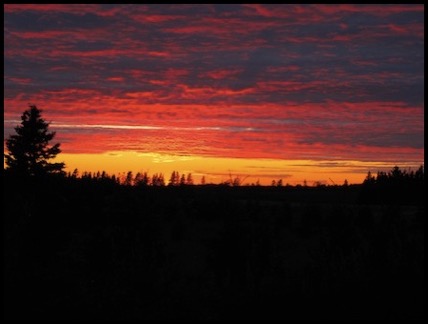 Today, we said goodbye to PEI with the hope to return some future day. Our B and B hosts gave us advice on where to get a photo of the Confederation Bridge located between PEI and New Brunswick. The bridge is about 8 km. long, and the longest bridge over a body of water that freezes.
We had about a slightly over 6 hour drive from Summerside on PEI to Bangor ME. The border crossing was quick and we were welcomed back to the States. It is a very isolated drive on Hwy. 9. Many homes and businesses are abandoned. I think this could be the loneliest highway in America in my opinion, not Hwy. 50 in Nevada. (VT)