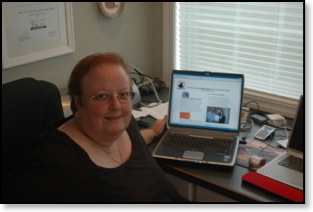 So what does a dedicated animal lover do with their life? Hmmm...well, you could become a veterinarian. Maybe even a veterinarian that strictly focuses on cats.
Vicki graduated from Washington State University with a DVM degree in 1976. She moved with Bob to Vancouver WA that year and started in private practice. The opportunity opened up to join Dr. Caroline Engle's cat practice in Vancouver in 1979 and the rest is history. A move was on in 1983 to Walnut Creek CA where she opened a growing and successful cat practice, Civic Feline Clinic, there as a sole veterinarian with one non-professional employee. She sold her portion of the practice in spring of 2003, after growing the practice with her business partner, Dr. Josephine Thompson, to three full time doctors and 11 lay personnel. Gross revenue at time of the sale was in excess of $1 million annually. She was "blown away" when Civic Feline was selected one of top five veterinary hospitals in the San Francisco Bay area for quality and price by Consumers Checkbook in May, 2003 from client satisfaction surveys. Since that time, she has been involved in relief work at cat-only veterinary hospitals, housecalls, and volunteer work.
Vicki has been active in leadership on several boards of different associations and foundations. She was an active board member for 20 years in the American Association of Feline Practitioners. She served as Treasurer, President-elect, and President (1996-1998) of the Association. She was the Delegate for AAFP to the American Veterinary Medical Assn. for 7 years. She was on the board of the Winn Feline Foundation since 2008 and was the President of the Foundation and Executive Director from 2013 to 2018. And, just to keep her additionally busy, she coordinates a Neighborhood Watch program of over 100 families in her countryside community of Berlin. Bob jokes that she is the "unofficial mayor" of Berlin. She truly loves reading (history especially), photography, crafts (quilting, sewing, knitting,crochet), and learning new things in general. Plus, a very proud grandparent of 3 grandsons and 2 granddaughters.