04/07/20 09:13
Another 4th of July is here. I wish I could say it is a carefree and happy 4th with no worries. This is 2020 with the Coronavirus19 pandemic has its chill on how and where we can celebrate the holiday. No fireworks unless at home or on television. Now there are elements in the country who want to eliminate, I'd say even destroy, the holiday. There is little joy in viewing this and more a bit of despair and anger to see this. I don't know where our country goes with this but this concept will not be part of our family. We do love our country in spite of its faults.
I am glad we had Founders who did have the foresight to create this marvelous example of a republic for as long as it lasts which I hope is so much longer.
There are posts online that each year point out the meaning the our Independence Day holiday. They usually are on the Powerline Blog and this year is no different, found
here
and
here
.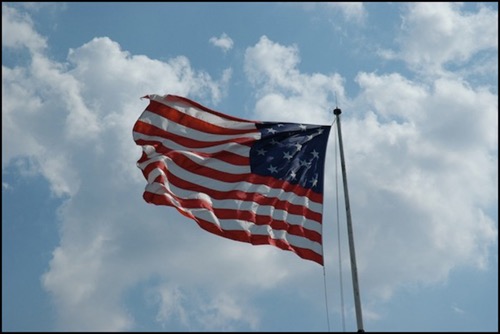 The flag at
Ft. McHenry near Baltimore.
25/05/20 06:23
Memorial Day has opened this morning before 6 a.m. with a beautiful sunrise that has a bit of color to it.
While it is always great to be at home and share Memorial Day with family and the local community, I have always said that the best Memorial Days spent are in Washington D.C. In spite of all the ugly politics, to visit the Memorials honoring those who have given the ultimate sacrifice is beyond special. Time at Arlington Cemetery with the changing of the Old Guard to reading the special tributes written by family members to their lost loved ones at the World War II Memorial is a memory that will always linger.
Here
is an article describing some of the tributes to Medal of Honor recipients found in Powerline. Just one version of how this special holiday can be viewed. Below is a picture from a trip to Arlington Cemetery to watch the changing of the Old Guard.