Having not done anything relaxing and fun plus today was a beautiful sunny day, we went for a drive through countryside we have not been before. West of Corvallis and in the Kings Valley area. The trip culminated in lunch at the Horseradish cafe in Carlton, OR. This is very much in the heart of Oregon wine country.
I did get a very nice photo of one of Oregon's covered bridges, the Ritner Creek bridge over Ritner Creek near Kings Valley.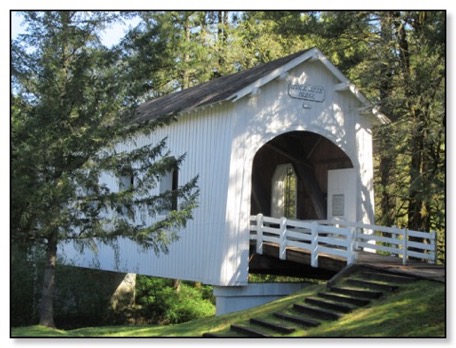 Karen and Tim are headed off over the mountains on Highway 20 to see Yellowstone Park on the way home. We gave some suggestions to stop to see the Painted Hills as they traveled toward John Day. Tim likes to get photos like I do so it is a photographer's paradise with the colors.
Yesterday, we went to see some Linn County Covered Bridges and to the Roaring River Fish Hatchery. It was a short and fun trip with everyone. It is cute to see this following photo of Karen with a rock Bob retrieved for her to do a painting on. We are here to please. It will be neat to see the outcome. Karen in front of the Larwood Covered Bridge.