19/10/12 10:20 Filed in:
Travel
How can we not appreciate and treasure good friends? Phony people are all around. The real gems who are real and would be there when needed are not. When you find them, hold on to that specialness as best you can! We got by email today a great photo of our evening at the Space Needle in Seattle with Tim and Karen Becnel. We had such a wonderful meal and view with great conversation. Tim and Karen fit into the special friend category. It was so great to have them stay at our home so we could share an Oregon experience too.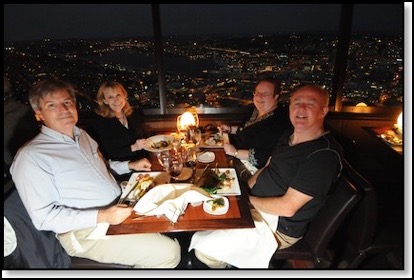 22/09/12 06:08 Filed in:
Travel
Who would believe that this year is the 50th Anniversary of the Seattle World's Fair with the Space Needle and the Monorail leading us into the future. The idea was space age technology with the development of the microwave and other items we use daily.
My family traveled to see the World's Fair and I was a young girl. Who me, I am going to tell how old I was in 1962?
Ah, the memories from days gone by. We rode the Monorail from the Westlake Shopping Center over to the Science Center and the Space Needle to eat dinner at the SkyView Restaurant up top with Tim and Karen. Here is the Space Needle from a lowly perspective.