Why is "Anne of Green Gables" so fascinating and intriguing for people that there is such a cottage industry built up around the author's childhood home? I have visited Margaret Mitchell's home in Atlanta and while it gets a lot of attention, there is not nearly the people visiting nor the infrastructure surrounding it. Does Anne have a deeper grip on our inner person, do we relate more to her than Scarlett of Gone WithThe Wind? Or does Atlanta have so many other draws that drain away a lot of the interest in Scarlett, therefore Margaret Mitchell?I loved both books in different ways. Anne reached out to me as an only child with her forays into her new world and trying to fit in at home and at school. LMM's relatives who maintain her legacy said she wrote in her diaries every day. The diaries are now being published over time slowly by her relatives. One could purchase the prior volumes at the homesite bookstore. I bought a small Anne figure for my desk and an interesting book of photos and writings of and about LMM there. The family autographed the book for me though I assume they do that for many people there. It is comforting to sneak a little bit of your childhood into your life.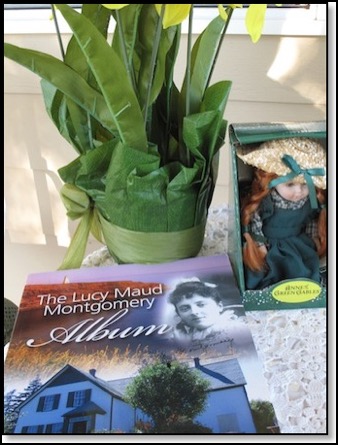 As I was writing the blog for last night, the fog quickly rolled in from the ocean and covered the surrounding area. It was eerie and I felt a bit like being in a scene from the movie, "The Fog" with Jamie Lee Curtis and Janet Leigh. "Stay away from the fog, don't go into the fog!" It was still foggy in the morning though cleared up quickly away from Louisbourg. We headed off along the southern scenic shore of Bras d'Or Lake along Highway 4 to head to the PEI ferry. This lake is a huge saltwater lake that practically divides Cape Breton Island in half.
As we started across the Canso Causeway to leave Cape Breton Island, Bob looked to our right and noticed a large number of people along a short promontory jutting into the water of the Causeway. Bob started going "Oh My, Oh My". What was capturing his attention and everyone else's was a pod of 10 plus whales near the shore that were diving and playing in the water. We turned around as quick as we could do it safely and came back to that location. The following picture is one of several we got of some of the whales. We also got some video of them and the people watching. People were calling friends--"You have got to get over here to see this!". Everyone was so excited and it was such a show, a free one at that. We felt the whales were giving us "The Wave" as they frolicked to say Goodbye to Cape Breton for us.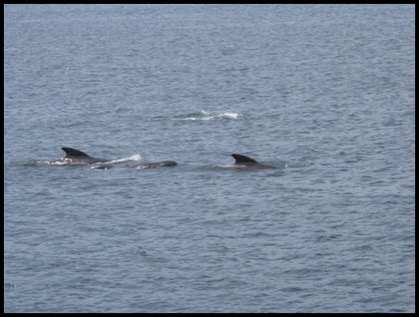 After this wondrous enjoyment, we headed again for our ferry. Our luck was not holding and we just missed it. So, we had to wait at the ferry terminal for the next one. It was a beautiful trip across the Northumberland Strait to PEI. We had music from two musicians and it was sunny and warm. We had heard great things about PEI and how beautiful it is. Red soil, white houses and fences, neat fields of potatoes, and green lawns. It all was true. It is a delightful area. The farming area reminds me at times of the rolling agricultural area between Stayton and Silverton, though with potatoes.
We have ended up staying the night in Charlottetown. Victoria Park near the harbour is beautiful and has a lovely walkway around the water.