Today's plan was to venture up and over the Cape Breton Island peninsula. We said goodbye to our hosts at the Pilot Whale in St. Joseph du Moine. It was an interesting stay since the area is Acadian settled and our hosts speak English and Acadian French. Our French is too rusty and long ago to be of huge use in this setting. I do want to include a picture of the B and B and the surrounding country as we go.
As we headed up the coast, we stopped at Aucoin's Boulangerie, a French bakery with great bread. We approached the part of the National Park that has few to no roads near Pleasant Bay Harbour. You can see what wild country it looks like and there were clouds and mist over the mountains. Lots of deer, moose, coyotes, and other critters in those mountains.
Stopping at one spot along the Ingonish area of the Cape Breton coastline, we could get a closer view of the beautiful shores, rough water, and the work of the lobster fishermen in their boats snagging lobster traps close to shore.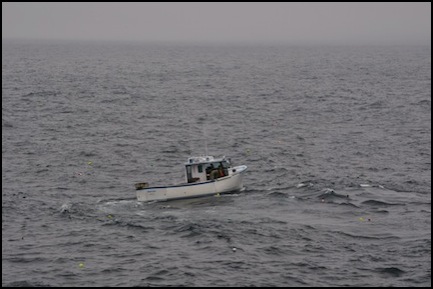 Snagging lobster traps
One interesting side trek we took was to Baddeck, along Bas d'Or Lake. This lovely little town was the summer home of Alexander Graham Bell and his family. He kept a laboratory here also. They have a national historic site museum here and it tells of his life and inventions. Bell started out his life working with the deaf and trying to bring a hearing world to them. His wife was hearing challenged. He also ended up being close friends with Helen Keller and helped expand her world. Bell was amazing in that he had a hand in inventing the telephone (of course), also worked with the telegraph, gramaphone, flying, kites, X-rays, genetics, and the hydrofoil. His work with flight went on to form the Lockheed company. His large home here near Baddeck was called
Beinn Bhreaghm
. The following photo is of the Bell museum. (VT)
Alexander Graham Bell Historical site