Our two fields of grass hay have reached the cutting phase and were mowed yesterday. Raking tomorrow and then baling. Hoping to get it all sold. We have a good crop this year after spraying for weeds and fertilizing. In all of this, two of my cousins reminded me of a saying my Dad used to use and is burned in their memory.
"If you cut your hay before the 4th of July, you deserve to get it rained on."
A Wolfenbarger rule I'd say.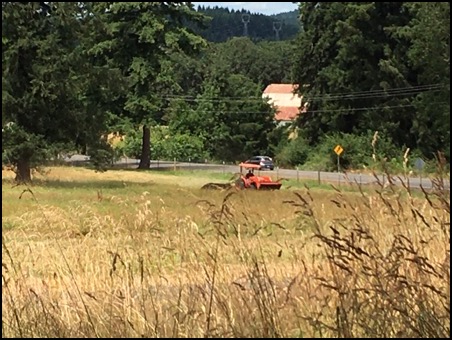 14/08/12 14:48 Filed in:
Family
This is a day I have been hoping to reach for the past month. The people contracted to cut our hay grass started cutting later in the afternoon. Due to the long dry spell, the grass in many areas was very dry, not green. We were worried about it being a fire hazard due to either an errant cigarette or a possible lightning strike if thunderstorms occurred. Plus, it always looks and feels cleaner to see the short grass. I like to be able to see the road and who may be coming up the driveway.
I do have fond memories of haying season when I was a youngster. My father would mow the fields with a side mower, rake it, and then bale it. Equipment was always tricky to keep running. It could be hot and dry work, usually dusty too. We would eat our lunch or take breaks out under the oak or fir trees. Dad would get his pickup or a tractor and trailer to pick up the bales with a hay crew. Bales would be cross-stacked 3 to 5 rows high, brought back to the barns and stacked in the lower floors or up the hay conveyor to the attic floors.
It is getting harder to find people to do this and especially the field around the house. We should think of other ways to use the land since this is less optimum year after year.