A recent study
published in Science Magazine indicates horses were first used by Native Americans earlier than previously believed. The theory before was that horses were more widespread by the late 1600s but different factors indicate they were widespread by the early 1600s.


"
Native American people integrated horses into their communities much earlier than European colonial records suggest, according to an innovative study Thursday that combined archaeological and genetic analysis with Indigenous oral traditions. The study is the first using both Western science and traditional knowledge to be published in the prestigious Science journal, the researchers said.
Based on European records from colonial times, historians have long contended that Native American people did not interact much with horses in the American West until the late 1600s.
Scholars often say the turning point was the Pueblo Revolt of 1680, when Indigenous people staged an uprising against Spanish colonizers in what is now New Mexico, releasing many European horses in the process.
However, the new research, which traces the spread of horses from the American Southwest into the Great Plains and Rocky Mountains regions, contradicts this widely accepted theory."
Original post on regarding this time.
As we drove up the valley toward Kings Valley we saw signs directing us a short distance on another road to Fort Hoskins historical park. I had not heard of it. It was a spot where a small army fort was located in the mid-1800s to over see the Kalapuya and Luckiamute natives. There were at one time about 200-300 soldiers located there. It is a pretty area overlooking the river valley. Lots of blooming apple trees around. One homestead is still there.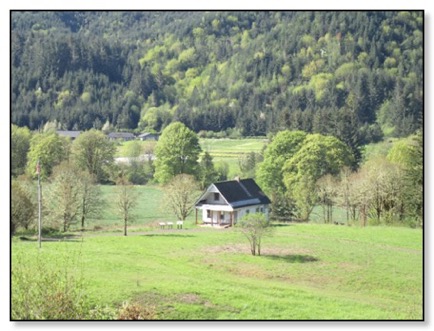 One of the sad episodes in American history is the Sand Creek Massacre in eastern Colorado in 1864.
This article
is written by a descendant of one of the U.S. cavalrymen there that day. He felt he needed to explore the history of that time and understand his ancestor's involvement. This is a fascinating story and he eventually came across a Native American descendant from a child who survived the massacre (in a very unusual and strange way). In the end, the descendants have found some peace and forgiveness together. It was a black stain on our nation's history of the West.